FIRST LIGHT DEBUTS NEW SAFETY EQUIPMENT AT NAPT NEW PRODUCT SHOWCASE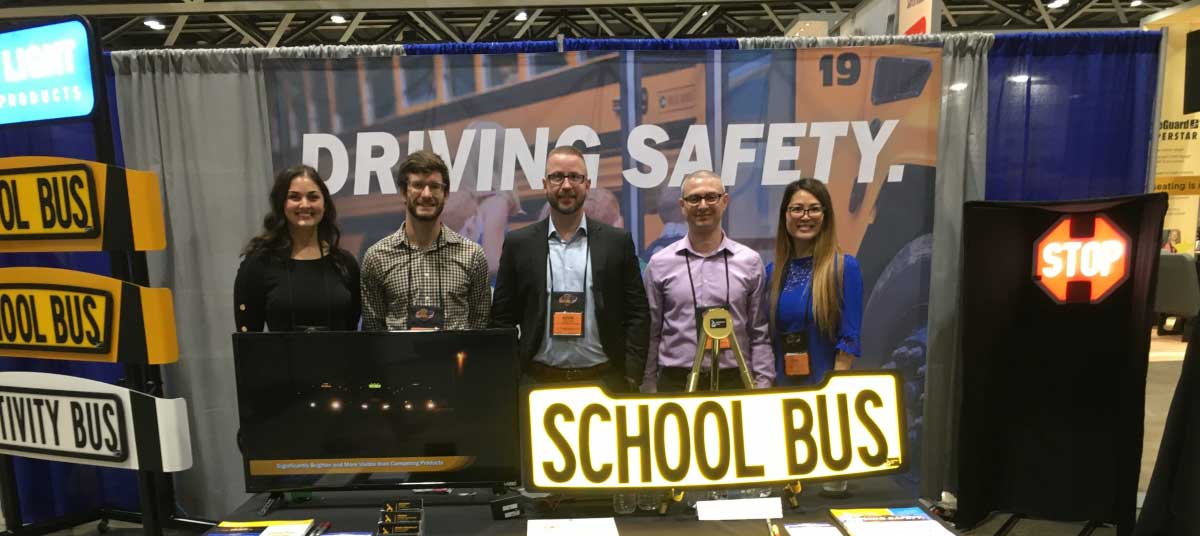 November 7, 2018
KANSAS CITY, MO. – First Light Safety Products debuted their new Illuminated Destination Sign and Illuminated Stop Arm at the NAPT New Product Showcase on Monday, October 30th.
Both products effectively improve the conspicuity and motorist recognition of the school bus in dim lighting and dangerous weather conditions. The innovative illumination technology enables the safety products to be seen from over 1,000 feet, read from over 300 feet, and visible up to 180°.
"The Illuminated Stop Arm, along with the Illuminated Destination Sign, leave no room for doubt that what motorists are seeing is in fact a school bus," said Kevin Smith, President of First Light Safety Products, during his presentation at the New Product Showcase.
Throughout the presentation, Smith emphasized the importance of making the school bus easily recognizable to other motorists. He supported this point by demonstrating how the warning lights on a bus could easily be mistaken for lights on another large vehicle, like a garbage truck, when viewed in dark conditions.
"If you can't tell it's a school bus, you don't know those red flashing lights are telling you to stop. It could be any large vehicle pulled over on the side of the road," explained Smith.
Unfortunately, the reality of this fact has been proven many times before. Most recently, the driver in Indiana responsible for hitting and killing 3 kids and critically injuring 1 last week claimed she saw the flashing lights but did not recognize the school bus until it was too late. First Light's products are designed to combat this issue by eliminating any confusion motorists may have when approaching a school bus.
Since First Light's products serve as their own light source, they do not rely on any external lighting, such as a vehicle's headlights, to be visible in dark conditions. This means motorists will be able to identify the school bus from far greater distances regardless of the angle they are approaching from, giving them more time to read and react to the school bus warning system.
The most impressive features of the illuminated products were the service life and fail-safe design. During the presentation, Smith kept an Illuminated Destination Sign lit on stage. It was only at the end that he revealed the product he was showing represented the level of brightness you could expect after 24 years of service operating at 8 hours per day, 365 days per year. Even with 50% of the LED lights in the products intentionally "failed", the Illuminated Destination Sign and Illuminated Stop Arm still exceed federal and state regulations and outshine all existing products in terms of visibility and readability.
First Light announced their plans to pilot test the products in New York, Nevada, and Georgia in early 2019. They are seeking participation from school districts in states that require pilot testing on new products. The products will be available for purchase in Fall 2019.