A YOUNG BOY'S PLEA FOR INCREASED SAFETY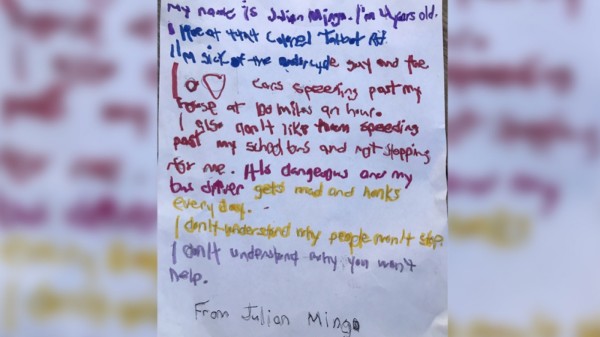 March 18, 2021
LONDON, ONTARIO March 19, 2021 – First Light Safety Products (First Light), a Canadian-based manufacturer of illuminated safety products for school buses, responds to a four-year-old's plea for help to improve school bus safety. Brave Julian Mingo received the assistance of his mother, Tara, to write letters of concern to London's leaders and speaks to CTV News London about how he doesn't like "people going past [his] school bus [and] can't take it anymore". First Light President, Kevin Smith, heard his adult-sized concern and offered to donate a set of Illuminated School Bus Signs and a Fully Illuminated & Reflective Stop Arm to the Lambeth Public School specifically for this young boy's school bus.
Established in 2018, First Light draws on its extensive 15 years of industry experience in supplying North America's largest transit bus and coach manufacturers via its parent company Smartrend Manufacturing Group. First Light is hyper-focused and driven to make the roads a safer place for children by reducing the number of stop arm violations, injuries, and fatalities caused by tragic accidents that are often preventable.
Why First Light cares and wants to make a difference:
+17M stop arm volitions annually
+85K school bus-related accidents annually
+100 school bus-related fatalities annually
+21K motorists say that they "didn't see the school bus."
"I don't like (vehicles) speeding past my school bus. It's dangerous, and my bus driver gets mad and honks every day." says little Julian. By offering Lambeth Public School these easy-to-install safety signs, the school can take a proactive approach to prevent violations and accidents before they occur. Switching to First Light's Illuminated School Bus Signs and a Fully Illuminated & Reflective Stop Arm gives oncoming motorists the most time to recognize and react to the school bus. With superior visibility, especially at greater distances, dangerous weather conditions, and even in low light or darkness, drivers will be able to differentiate a school bus from other large vehicles on the road.
"By making the school bus more visible at greater distances, it will help to reduce the number of dangerous or fatal situations by giving the oncoming motorists the most time to recognize and react to the school bus. We are honoured to help young Julian in his mission to increase safety", said Kevin Smith, President of First Light.
First Light is currently partnering with school divisions, bus dealers and manufacturers, and transportation directors across North America to improve school bus safety regulations. If you are interested in learning more about our innovative products or seeing a free demo, email us at info@firstlightsafety.com
About First Light Safety Products
First Light Safety Products, a subsidiary of Smartrend Manufacturing Group, is a leader in the manufacturing industry, engineering products for the transportation and school bus industries. Our goal is to eliminate school bus related fatalities by making the journey safer for our kids with our patent-pending illuminated technology.
Facebook: @firstlightsafety | Instagram: @firstlightsafety | Twitter: @FLdrivingsafety | LinkedIn: First Light Safety Products | YouTube: First Light Safety Products | www.firstlightsafety.com